Engine: {{vehicle.engine}}
Drivetrain: {{vehicle.drivetrain}}
Transmission: {{vehicle.transmission}}
Exterior: {{vehicle.exteriorcolor}}
MSRP: {{vehicle.saleprice | moneyFormat(lang)}} Sale Price: {{vehicle.saleprice | moneyFormat(lang)}}
Save: {{(vehicle.specialprice -vehicle.saleprice) | moneyFormat(lang)}}
Special Price:

Our Price:

{{vehicle.price | moneyFormat(lang)}}

+ tax & lic
Contact Us for Pricing
Total discount: {{discount | moneyFormat(lang)}}
-
Finance: TEST
/Weekly + tax & lic
-
Lease: TEST
/Weekly + tax & lic
Engine: {{vehicle.engine}}
Drivetrain: {{vehicle.drivetrain}}
Transmission: {{vehicle.transmission}}
Exterior: {{vehicle.exteriorcolor}}
MSRP: {{vehicle.saleprice | moneyFormat(lang)}} Sale Price: {{vehicle.saleprice | moneyFormat(lang)}}
Save: {{(vehicle.specialprice -vehicle.saleprice) | moneyFormat(lang)}}
Special Price:

Our Price:

{{vehicle.price | moneyFormat(lang)}}

+ tax & lic
Contact Us for Pricing
Total discount: {{discount | moneyFormat(lang)}}
-
Finance: TEST
/Weekly + tax & lic
-
Lease: TEST
/Weekly + tax & lic
Sorry, it doesn't look like we have what you're looking for in stock.
However, I'm sure we can find a similar vehicle or we can get one for you in a short amount of time.

Please contact us and we'll find what you're looking for.

[ninja_form id=11]
THE 2023 TOURING HYBRID
What happens when you blend elegant design, muscular performance, and the latest tech? You get a truly remarkable hybrid. From 19" Berlina black aluminum-alloy wheels, to an efficient two-motor hybrid system, to the latest Google Built-In connectivity, the Touring Hybrid is specially crafted to help blur the lines between you, the machine, and the road.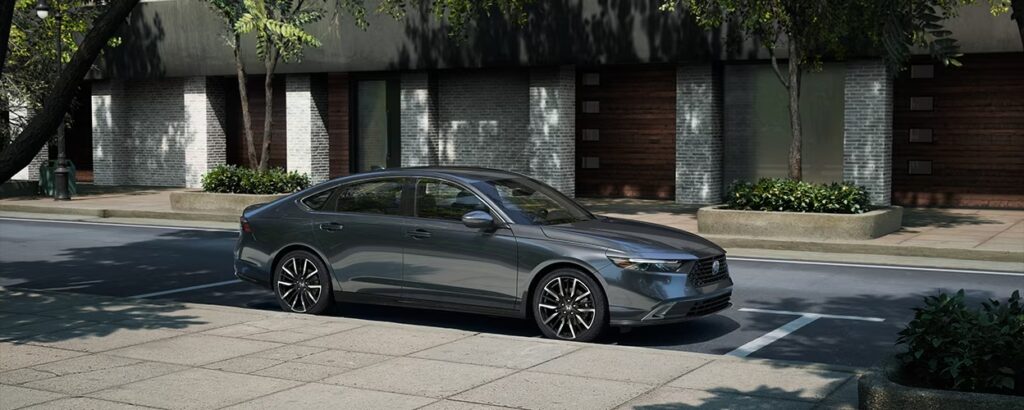 Want to learn more about the 2023 Honda Accord
EXPLORE GALLERY
Select an image or open the entire gallery
Exterior
Interior
VIEW FULL GALLERY